COVID VACCINE CARD UPLOAD
MPA 2022 is contracting with 42Chat to help us navigate both the COVID-19 Vaccine card upload process or negative test results for those who are not vaccinated.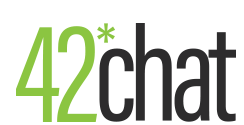 As per the MPA 2022 rules, all attendees must be vaccinated or show proof of a negative COVID-19 test (rapid antigen or PCR), performed by a medical professional within 3 days of the conference. You can find more details HERE.
If you are planned to upload a vaccine card, you will receive a text message starting April 4th asking you to upload your vaccine card.
If you did not receive a text, you can do the following:
Users can text 'Hi' to 855.512.0987 or scan the QR Code below to get started.
As an exception for those unable to upload via mobile or for international attendees, use the web version here.